You can take the boy out of the school, but you can't take the school out of the boy!
When Neal Irwin graduated from NT in 19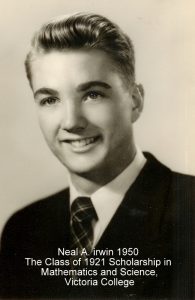 50, he could never have predicted that he would return to his alma mater fifty years later to chair the North Toronto Foundation and lead it through its most challenging and interesting times. Neal joined the Board in 2000, became co-chair in 2003 and from 2009 served as chair  for four years. During that time, he patiently shepherded us through the challenges associated with moving to the new school and planning the 100th Reunion in 2012.
Neal provided a very strong voice for the Foundation and alumni on the Design Team, a committee composed of TDSB personnel, NT staff, parents, students and alumni working with the architects to shape the new school. He strongly advocated for the creation of the Heritage Courtyard to preserve the spirit and architectural features of the old building, and spearheaded the Red and Grey Campaign, which raised over $100,000—money that was dedicated to furnishing the Heritage Room, providing the playing-field scoreboard and turf, and upgrading display areas and the archives.
At the same time, Neal worked diligently to organize the 100th Reunion; that planning process took over four years. He played a key role in establishing the committees, finding volunteers and dealing with the financial issues.
Neal's skills in these areas were developed at an early age. His father was the editor of Maclean's magazine, and Neal grew up with a wonderful background in the exchange of ideas and the exercise of imagination, but with a very pragmatic bent. Postwar Canada offered exciting opportunities for a dedicated young man, and Neal seems to have taken every advantage of what was on offer. He studied hard at NT, played the violin, was active in student life and graduated with the Victoria College Class of 1921 Scholarship in Mathematics and Science. Wanting to broaden his scope, he took social and philosophy studies at Victoria College in his first year, then switched to engineering physics and graduated in 1955. The next few years were varied: two years on a fellowship with English Electric in the U.K.; a job with Atomic Energy of Canada Ltd., designing the Bruce Nuclear Power station; then a switch in focus—the new field of computer programming and traffic research. At KCS Neal worked with the recently developed mainframe computers, designing forecasting models to improve urban transportation. A new subsidiary was formed, and soon he was working for Traffic Research Corporation, which sent him off to New York in 1960 to open a branch there. He returned to Toronto in 1965, working for TRC as a consultant in city planning, urban policy and transportation. In 1974, he and an architect colleague formed IBI Group, focusing on urban development with other like-minded partners. The firm grew rapidly, expanded into the rest of Canada and the U.S. and is today a highly respected international company. Neal was managing director for about thirty years and continues to consult with them to this day. Carol, his wife of almost fifty years, died a few years ago, but he still enjoys the company of his four children and his grandchildren.
After fourteen years of giving generously of his time and experience, Neal has resigned from the North Toronto Foundation, which has benefited greatly from his business, managerial and personal skills and— most importantly—his exceptional level of commitment to the school. It is due in large part to him that we have a new school that honours its heritage and that the 100th Reunion was a success. It was entirely fitting that, when he stepped down as chair of the Foundation in 2013, NT students presented him with the John "Coach" Taylor Award, in appreciation of his dedication and passion for NT. His generous spirit and inclusiveness continue to be deeply felt by everyone on the Foundation, and we wish him only the very best for the future.
(Visited 157 times, 1 visits today)