If you missed the 100th, this is the perfect opportunity to come out to see the school and reminisce with old friends. And even if you did make it to the 100th, it's already been five years, so it's really time to check in again. Here is how the weekend is starting to shape up:
Thursday, October 12 – Red and Grey Day
Featuring most of the fall athletic teams (football, girls' basketball, boys' soccer, field hockey, boys' volleyball) in action in the gym and on the field, with games starting as early as 9:00 a.m. and continuing until late afternoon. Full details will be released in late September once the games have been scheduled.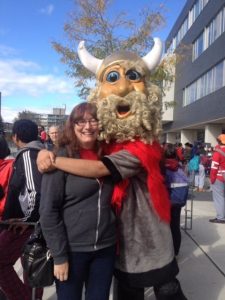 And here's what's on tap for the day:
Self-guided tours of the "new" (2010) school
Meet current athletes and coaches
NT Foundation will host refreshments for alumni in the 2nd- floor staff room from 1–4 p.m. Meet fellow grads! All grads are strongly encouraged to come back, especially those with significant anniversary years: 1957, 1962, 1967, 1972, 1977, 1982, 1987, 1992, 1997, 2002 and 2007
Sale of vintage uniforms
A reception will be held at 5:00 p.m. at the Granite Brewery on Mt. Pleasant at Eglinton. Cash bar, light snack provided.
Friday, October 13 – Mix and Mingle
Student-led tours of the school starting at 1:00 p.m. (sign-up required)
Bring your treasured memorabilia for a show and share from 1–3 p.m. in the staff room on the 2nd floor. (There is an elevator if stairs are hard for you.)
Come out to a meet-up with fellow alumni for the evening at a local establishment (details TBD; please watch for email updates).
Saturday, October 14 – NT Homecoming 2017 Concert
NT's auditorium will be THE place to be on Saturday, October 14. A really exciting concert is in the works, and you won't want to miss it. Mark the date on your calendar and watch your inbox and social media for details and advance notice of ticket sales. This will be an alumni/staff-plus-one event, with ONLY 560 tickets, which are sure to go quickly. Purchasers' alumni/staff status will be monitored, and tickets will not be sent until we verify that status. If you don't receive Foundation emails, check here for updates.
NTCI Foundation presents the NT Homecoming 2017 concert
featuring

Jim Cuddy ('74)
The Skydiggers ( Andy Maize ('78) & Josh Finlayson ('82))
with special guests Devin Cuddy ('05) & Charlotte Cornfield ('06)

Saturday, October 14th
7:00 pm
NTCI Auditorium
Tickets: $80
Limit 2 tickets per NT alumni or NT staff (a 19+ event)
Tickets go on sale August 28th on eventbrite:  nthomecoming2017.eventbrite.ca
(Visited 722 times, 1 visits today)