What will be the lasting impacts of the COVID-19 pandemic on our collective mental health and social wellbeing — particularly that of our youth? 
Join us for the NTCI Alumni Foundation's Speaker Series event, "Mental Health and Wellness: Improving Outcomes", featuring notable NTCI alumni making a difference in mental health, wellness, and social connectedness.
This virtual Zoom event on Wednesday, May 4 at 7 p.m. will include a keynote address by Nicole German, mother of former NT student Madeline Coulter. It will be followed by a panel discussion moderated by David Brady ('87). Panelists include Pete Bombaci, ('85), Amy Rankin ('00), and Olivia O'Brien de la Torre ('18). 
All ticket proceeds from this event will go towards the Foundation's newly-established Wellness Fund. Developed in response to Canada's ballooning youth mental health crisis, and in partnership with the NTCI Guidance Department, this fund will support student mental health and wellness initiatives at the school. These include—but are not limited to—individual counselling with a health professional or social worker, participation in programs developed by organizations providing mental health support to students, or any other initiative which, at the discretion of the Guidance Department, is considered to be effective in assisting NTCI students with their mental health needs.
Tickets are only $10. Buy yours today:
https://www.canadahelps.org/en/charities/north-toronto-collegiate-institute-foundation/events/mental-health-and-wellness-improving-outcomes/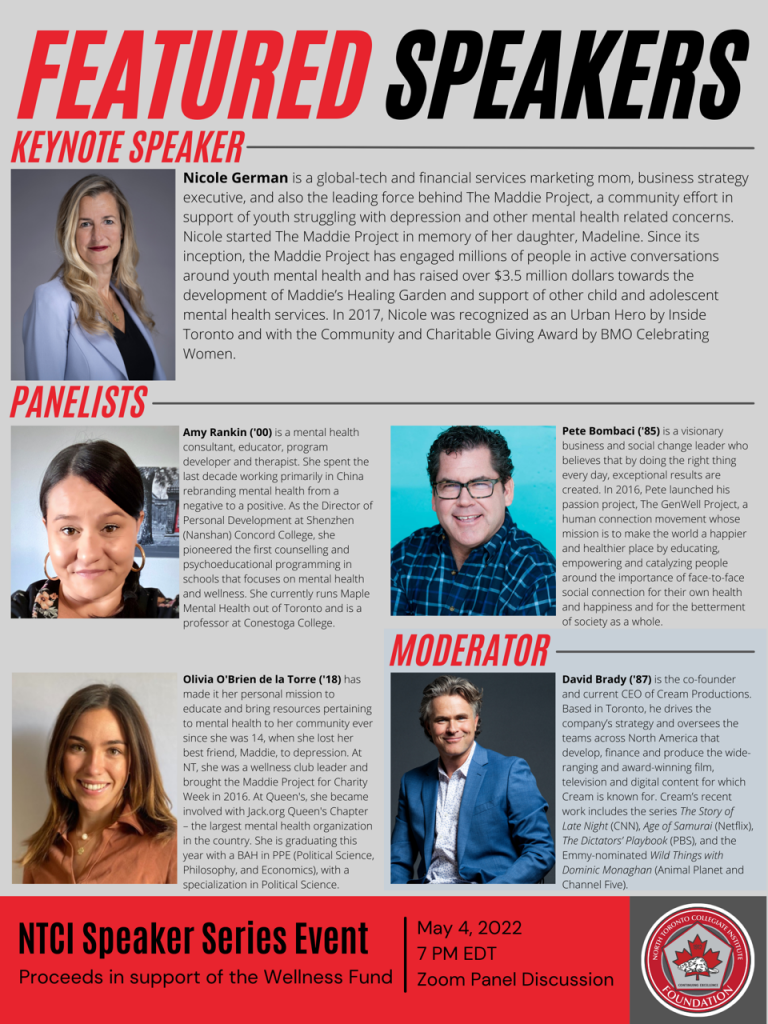 (Visited 124 times, 1 visits today)