This past February, NT student groups had the opportunity to request funds from the NT Foundation in the bi-annual Dragon's Den. As part of our mandate, the NT foundation welcomes financial requests from student-led groups to help support the arts, athletics, and student well-being. Over the years, the Foundation has helped send students on outreach trips, supported in-school workshops and helped fund the annual Remembrance Day assembly.
This winter, we heard from four groups who each gave thoughtful and creative presentations, outlining their financial needs, as well as an explanation of how these funds would be beneficial to the wider NT student body. The Foundation hopes to support as many students as possible through our financial contributions, so aims to support a large number of students with each grant.
Graffiti, the school's newspaper, is printed twice a year and a copy is made available to as many students as possible. Although printing costs are offset by advertising money from local stores and the school budget, printing costs remain high. This year, the Foundation gave the newspaper $1,280 towards the printing fee.
The Girls Varsity Hockey team came with a request to help pay for the registration fee for the two-day CanLan Spring Classic Hockey Tournament at York University School Tournament, as well as new pant shells, with the NT logo on them. The Foundation was able to give the team the registration fee and the school, using funds from the athletic council, was able to give the pant shells.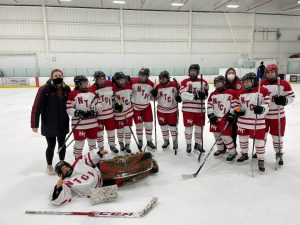 PALS, a peer mentoring group charged with welcoming grade nine students and helping them adjust to high school life, was requesting funds for the Winter Wonderland they were hosting in March. The event was an overdue welcome to grade nine and ESL students who were not properly welcomed at the beginning of the school year due to Covid-19 restrictions. The Foundation recognized the importance of giving these students an opportunity to build ties with their classmates and the greater school community and gave them a financial contribution of $640 towards the Winter Wonderland festival.
Finally, the Prom Committee asked for financial support towards grad gifts and treats being sold at Prom. The Prom Committee wanted to enhance the experience for these grads at prom, as they have had few high school traditions due to covid. As well, the cost of events has increased due to safely protocols, and they were hoping that the Foundation could help. The Foundation was able to grant the Prom Committee the amount of 1,280.
(Visited 155 times, 6 visits today)