On November 5th a reunion took place to celebrate the 40th anniversary of the amazing Norsemen victory in the city championship for Senior Football. The reunion was planned by team members Andy Maize. Hugh Murray and Geoff Reeves, who conjured up the idea during their regularly scheduled "guys nights" over beers in a local pub.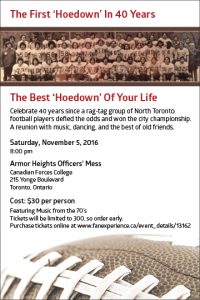 The reunion was 40 years and 1 day after the championship game.  On November 4th 1976, the Norsemen defeated arch-rival Lawrence Park Collegiate at CNE Stadium, on the all-new "AstroTurf".  The score was a resounding 63-22 for the NT victors. Ironically, the game took place a few days before the Ottawa Roughriders won their last Grey Cup – also 40 years ago this year.
The reunion was attended by 30 team players, and was also honoured by the presence of team coaches Brock Cromwell, Dave ('One Knee') Grace, and Danny Russell.  The evening featured cocktails and dinner, accompanied by original game films and heartfelt speeches. Dinner was followed by an open party of NT friends and colleagues from school year 1974-1980 (a format once known by this crowd as a "Hoedown") and the festivities went until the wee hours of the morning .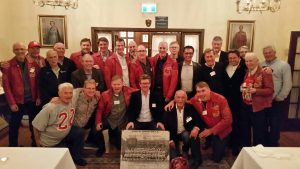 Before the party started the team took the attached picture and burst into a rendition of the NT school song. The event was a "Yuge" success and there was some discussion about the 1977 championship win as well…Stay tuned on that one.
Geoff  Reeves