HOMECOMING CONCERT – FIRST IN EVERY WAY!
For those of you who were able to attend the inaugural Homecoming Concert on October 14th, you know just how lucky you were to be there. Alumni and guests were treated to an intimate concert with Jim Cuddy ('74) and The Skydiggers, including Andy Maize ('78) and Josh Finlayson ('82), along with special guests Devin Cuddy ('05) and Charlotte Cornfield ('06).
The evening started with music by Charlotte Cornfield, who mused that in Grade 10 she had been asked "not to return" to the NT Orchestra, after she'd missed a Kiwanis Festival event for a recording gig instead. Devin Cuddy, son of Jim Cuddy, and talented artist in his own right, played some soulful songs on the piano, and thanked a teacher at NT for encouraging him to follow his passion and pursue a degree in music.
After a long intermission, where NT alum gathered in the atrium to reminisce and catch up with old friends, alumni were treated to a lively concert by The Skydiggers that included some top-notch dancing in the aisles, and wonderful tales by lead singer Andy Maize. Maize recalled a bus ride to the Santa Claus Parade with the Marching Band, where music teacher Mr. Krueger had repeatedly reminded the musicians not to take their cases off the bus, as there would be nowhere to put them once the parade started. In typical Grade 9 fashion, Maize had ignored the repeated requests and ended up with his trumpet case on Bloor Street. While he couldn't remember exactly what he had done with the case, he did remember Mr. Krueger's choice words in response to his stupidity.
For the final act, Jim Cuddy took the stage with The Skydiggers to perform his own music, as well as some of his popular Blue Rodeo tunes. Cuddy, probably one of NT's most famous alumni, confessed that he wasn't really open about his musical talent in high school. In fact, Grade 11, when a friend he ran into in the "alley" on his way to audition for Maytime Melodies challenged him ("You?!"), he chickened out. Luckily, he eventually mustered up the courage to share his talent with the rest of us. In the final number, surrounded by The Skydiggers, Cuddy laughed that he never would have hung out with these "minor-niners" in high school, but that time had allowed them to finally come together.
No doubt, it will be the great music that most of us remember about the evening. But beyond that, it was the stories – the shared stories – that meant something to all of us. Because even if we didn't all turn out to be rock stars, we all remember what it was like to be a minor-niner, afraid to walk up the alley, and in trouble with Mr. Krueger, or someone else, because we did something just a little stupid.
S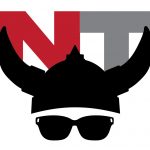 pecial thanks to all of the artists, as well as Tammie Presnal Jennings ('82) and Lisa Pen ('82) for designing the logo for our swag, Phil Presnal ('85) for being our amazing sound technician, Peter Bombaci ('85) for being the awesome MC, and Principal William Mack for allowing it all to happen!