Over the past few years, we have featured articles about our "Dragons' Den"—a twice yearly event at which student groups ask the Foundation for funding to support NT's extra-curricular clubs and teams, many of which were thriving when you were at the school. Clubs like Graffiti, the illustrious school newspaper, request monies to help with their printing costs, while the Remembrance Day Committee, which puts on an annual assembly at the school, uses our funding to pay for pipers and a reception for the participating Veterans. Without our help, some of these groups would not exist, or would be unable to do some of the things they do.
At our most recent Dragons' Den, the Foundation was able to provide some financial support to all of the groups who requested funding. For example, the YMCA Exchange group received a grant to purchase TTC passes for students visiting from an Indigenous Reserve in Northern Ontario so that they could travel around the city with their NT hosts. Another group received funding to pay the cost of a bus so that members could attend a leadership camp. Although the groups making presentations often ask for more funds than we are able to provide, we do our best to award at least some of what they request. We particularly try to support groups whose initiatives reflect NTCI's traditions and heritage.
When you consider donating to the Foundation, remember that any amount, large or small, is always welcome! Your $50.00 donation could help pay the registration fee for the Robotics Team to participate in a competition. A $100.00 donation could pay for a new team jersey! Please remember, your donations go a long way to ensure the continuation of the school's extra-curricular activities. The funding we provide is always appreciated: the students are genuinely grateful for any contribution we can give them.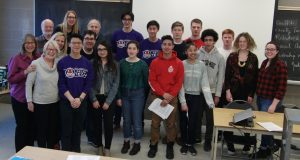 (Visited 353 times, 1 visits today)