Our archives now have a new piece of memorabilia. Bill Williams ('54) brought in the football used in the 1952 championship game between North Toronto and Riverdale. For the Norsemen, the football used in the 1952 Red Feathers Tournament.the game capped an undefeated season, which also included the Red Feathers Tournament, then the unofficial Ontario championship. The ball has been inscribed with the scores of all the games of that memorable season.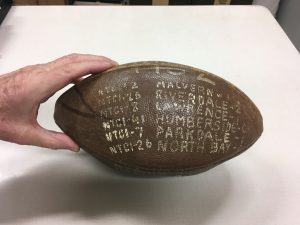 Among the notable players on the team coached by Bob Coulter was Eric Nesterenko ('53), who couldn't play the final games as he was playing for the Toronto Maple Leafs hockey team. He later played for the Chicago Blackhawks.
Another notable team member was Walt Radzick ('53), who went on to play in the CFL for Calgary, Toronto and Hamilton, winning rookie of the year and a Grey Cup. Jim Rowney ('53), who later came back to teach and coach at his alma mater, NTCI, also played on the 1952 championship team.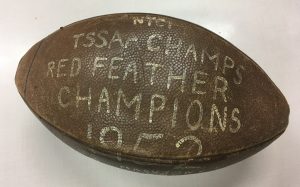 (Visited 196 times, 1 visits today)