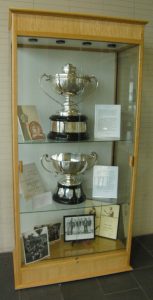 It has been an exciting fall for the NTCI Foundation. Our first major Homecoming event culminated in the concert Saturday night, starring Jim Cuddy and The Skydiggers. It was wonderful to see so many familiar faces and to watch multiple generations of NT musicians perform some of their best-loved music to the many generations in the audience. Let's keep the spirit alive by making a lasting contribution to our scholarship fund.
The Celebrating Excellence campaign concludes at year end. As a result of contributions to date, we have been able to set up the new trophy case, restore some of the most iconic trophies and contribute over $3,500 to the scholarship fund at Commencement in October. We have decided to increase that amount by 10 percent next year. This will bring NTCI awards recognizing academics, athletics, arts and leadership more in line with current costs. We hope you will consider making a donation; one hundred percent will go directly to the scholarship fund.  
Generous donors will be acknowledged on a plaque on the trophy case itself. All contributors will receive tax receipts (over $25).
Pentagon Patron: $1,000 and above
NT Norseman: $500 to $999
Spirit Sponsor: $250 to $499
Naming rights for the trophy case: $8,000. This is available to an individual, family, team or a graduation class.
Please mail your gift to: The NTCI Foundation at 17 Broadway Ave, Toronto, ON, M4P 1T7. Specify the Celebrating Excellence campaign. If you have questions, email Nancy McFadden at nancyanddoug.mcfadden@gmail.com or 647-351-2850.
Thank you so much. We cannot support this legacy of excellence without you.
Year-End Bonus:
Gifts of $100 or more qualify for a free concert T-shirt (specify size); an NT pop socket or our NTCI centennial history book. If you donate $250 or more, you may select two. These NT heirlooms can be picked up in Room 412 at lunch and after school from Mark Kinoshita. Please contact Mark at mark.kinoshita@tdsb.on.ca to arrange a time and then check in at the office before going up. 
(Visited 126 times, 1 visits today)