Thanks to the initiative and talents of NT alumna Jennifer (Jenny) Peace ('71), Ontario's City of Burlington is now home to a New Horizons Band—a musical group for mature adults who have always wanted to play a band instrument and for those who once played and want to again.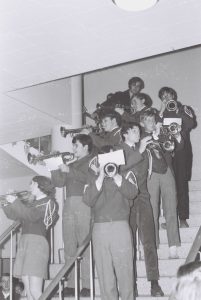 Jenny was bitten by the music bug in Bud Hill's music class, where she chose the trumpet and, never one to pass on a challenge, stuck to it—determined, to quote Bud, not to "play like a girl." At Queen's University, she started out as an English major but switched to music education after spending most of first year hanging around the music building. Now retired from an illustrious teaching career with the Halton District School Board, Jenny continues to pursue her love of music as a performer in the Oakville Symphony (and other groups) and as Clarkson Music Theatre's music director. Through her commitment to music education and lifelong learning, she connected with the New Horizons International Music Association (http://newhorizonsmusic.org/concept-and-philosophy/). Inspired by their inclusive philosophy that "every person has musical potential that can be developed," Jenny brought the program to Burlington in 2012.
In January 2015, she and her twenty-six-member band were featured in an article in the Hamilton Spectator (http://www.thespec.com/news-story/5295921-it-s-never-too-late-to-join-the-band/), and since then more budding musicians have joined to swell the ranks. For Jenny, the reward is "seeing people accomplish something they thought they couldn't do" and sharing her passion for music—a passion that began at NTCI.