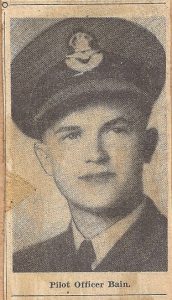 Flying Officer Douglas Bain ('39) was killed in action on May 30, 1942, and posthumously awarded the Distinguished Flying Cross in March 1944. The DFC, presented to his next-of-kin and long treasured by the Bain family, was recently donated to NTCI by his nephew (and NT alumnus) Don Norval for safe-keeping. We are honouring that responsibility; both his Distinguished Flying Cross and military letter are on display in the main hall.
Flying Officer Bain, who served with the RCAF and became one of the Allied Forces' most outstanding pilots during the Second World War, was recognized during the school's 2013 Remembrance Day assembly. As Principal Joel Gorenkoff reported, Private Officer John Douglas Norman Bain left NTCI after his final year of high school to serve in the Canadian Armed Forces when war first broke out in 1939. He was formally enlisted on October 8, 1940, finished his training on February 11, 1941, and was then commissioned for the war effort.
His military records contain the following description:
One night Flying Officer Bain piloted an aircraft to attack Aachen along the western tip of Germany. While over the target area, his bomber was seriously damaged when engaged by an enemy fighter. Despite this, Flying Officer Bain made several determined runs over his target. On the return flight, two more enemy fighters were encountered but Flying Officer Bain out-maneuvered them. By superb airmanship and great tenacity he succeeded in flying the crippled bomber home. He displayed commendable courage and a fine fighting spirit in circumstances of great difficulty.
Flying Officer Bain, awarded the DFC for this and his thirty-seven other successful sorties during the war effort, is buried at the Canadian War Cemetery in Noord-Brabant, Holland.
(Visited 150 times, 1 visits today)