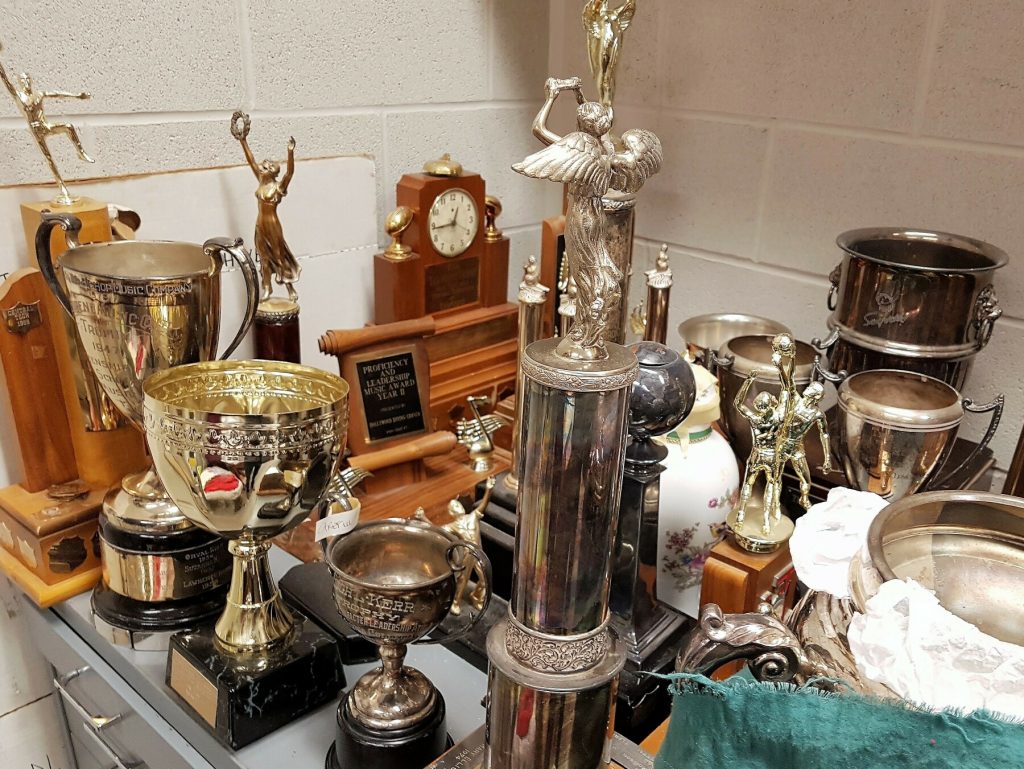 As an important part of the school's legacy, North Toronto C.I. is fortunate to have a large collection of trophies, plaques and awards. Many of these artifacts, recognizing the varied achievements of NT students, are found in the school's Archives Room. In a recent visit to NT, Nancy Baines, the Foundation's archivist and a member of NT's staff from 1969 to 2000, identified some of the significant trophies in the collection:
Ostrander Trophy for Proficiency and Leadership in Athletics (girls) – awarded from 1939 to 75;
J.M. Greene Music Company Trophy for Citizenship, Scholarship and Music –awarded from 1947 to 1978;
The Sifton Trophy for School Citizenship – awarded from 1939 to the present;
The Kerr Trophy for Student Leadership – awarded from 1928 to the present 2018 (awarded for 90 years!).
She also pointed out some of the lesser known trophies in the collection:
Hill, Ford and Kaethler Trophy for Leadership and Co-operation in Grade 11 and 12 Music – awarded circa 1967
The North Toronto Trophy for Junior Oratory – awarded from 1957 to 1962.
NTCI Juvenile Sports Champion Trophy – awarded from 1957 to 1978;
The Seaforth Cup Interscholastic Sports Competition – awarded in 1958;
TS Harbord Invitational Jr. Basketball Tournament – awarded from1960 to 1996.
There are many fascinating stories behind these awards and of the students who were honoured to receive them. Throughout this year watch for articles featuring a closer look at NT's trophies and their recipients.

(Visited 288 times, 1 visits today)