The Covid-19 pandemic has underscored the importance of journalism. Over the past 18 months, we have turned to journalists for timely, accurate, and relevant information.
Join us for an evening of invigorating discussion on the role of journalism during times of crisis, news in a post-truth era, the ever-changing media landscape, and much more. Featuring a group of Canada's top journalists and broadcasters who also happen to be NTCI alumni, the event will kick-off with a keynote speech by CBC senior correspondent Saša Petricic ('82). This will be followed by a panel discussion moderated by award-winning producer David Brady ('87). Panelists include CP24 anchor Jee-Yun Lee ('91), Global News senior network correspondent Allison Vuchnich ('89), former Globe and Mail dance critic and investigative reporter Deirdre Kelly ('79), and CBC Edmonton reporter Madeleine Cummings ('09). The evening will conclude with a Q+A session with our panelists.
All ticket proceeds from this event will go towards the Foundation's newly-established Wellness Fund. Developed in response to Canada's ballooning youth mental health crisis in partnership with the NTCI Guidance Department, this fund will support student mental health and wellness initiatives at the school. These include—but are not limited to—individual counselling with a health professional or social worker, participation in programs developed by organizations providing mental health support to students, or any other initiative which, at the discretion of the Guidance Department, is considered to be effective in assisting NTCI students with their mental health needs.
Buy tickets here!
https://www.canadahelps.org/en/charities/north-toronto-collegiate-institute-foundation/events/journalism-during-a-pandemic/
Keynote Speaker
Saša Petricic ('82) is a Senior Correspondent for CBC News, specializing in international coverage. He has spent the past decade reporting from abroad, most recently in Beijing as CBC's Asia Correspondent, focusing on the continued rise of China, Hong Kong protests, and tension between North and South Korea. Before that, he covered the Middle East from Jerusalem through the Arab Spring and wars in Syria, Gaza and Libya. Over more than 30 years, he has filed stories from every part of Canada and every continent on earth.
Panelists
Madeleine Cummings ('09) is a reporter at CBC Edmonton. She has contributed to the national radio shows The Current, The Cost of Living, and The House. Before joining the CBC, she reported for Postmedia, Slate, and Canadian Running magazine.
Deirdre Kelly ('79) is an award-winning author, critic, investigative reporter, fashion & lifestyle journalist and editor with 4,000+ bylined Globe and Mail articles and hundreds more in publications like Vogue, Marie Claire, Elle, Interview, NUVO, Canadian Geographic, Dance Magazine, Dance Gazette and the Toronto online arts publication, CriticsAtLarge. Since 2017, she has been Editor and principal writer of The York University Magazine. In 2020, she won the Nathan Cohen Award for Outstanding Review, Canada's top performing arts criticism prize. In 2021, the Guardian newspaper named her book Ballerina: Sex, Scandal and Suffering Behind as one of the best ballet books of all time.
Jee-Yun Lee ('91) is an Anchor and Reporter at CP24. An acclaimed journalist, she is best known for her work as a consumer specialist in Toronto. Her first job in journalism was with CTV Saskatchewan. Wearing several hats, she was a videographer, anchor, weather reporter, producer, writer, and line-up editor. In 1997, Lee returned to central Canada working for CHCH TV in Hamilton for five years and subsequently with Citytv in Toronto for eight years. Her beats ranged from health to Queen's Park to consumer stories.
Allison Vuchnich ('89) is a senior network correspondent with Global News. She has distinguished herself in health, investigative and enterprise reporting. During the pandemic, Allison has been overseeing the content and team for The New Reality, Global's new long-form current affairs show. Her past reporting as Senior Network Correspondent has garnered Allison a Gemini award, numerous RTDNA awards, and other accolades. Allison earned her MSJ at the Medill School of Journalism at Northwestern University in Chicago. Before coming to Global, she also reported for ABC, NBC, and CTV.
Moderator
David Brady ('87) co-founded Cream Productions in 2003 and is currently its Chief Executive Officer. Based in Toronto, he drives the company's strategy and oversees the teams across North America that develop, finance, and produce the wide-ranging and award-winning film, television and digital content for which Cream is known. Cream's recent work includes the series History of the Sitcom and The Story of Late Night (CNN), Age of Samurai (Netflix), The Dictators' Playbook (PBS), All or Nothing (Amazon Prime), and the Emmy-nominated Wild Things with Dominic Monaghan (Animal Planet and Channel Five). Cream also recently launched its podcasting division as well as a VR/AR unit — both of which are currently releasing multiple titles.
Agenda
7:00 PM: Opening remarks by NTCI Alumni Foundation Chair Ron Wakelin ('64)
7:05 PM: Keynote speech by Saša Petricic ('82)
7:30 PM: Panel discussion (short break followed by Panel discussion)
8:30 PM: Q+A session
8:45 PM: Closing remarks from the NTCI Alumni Foundation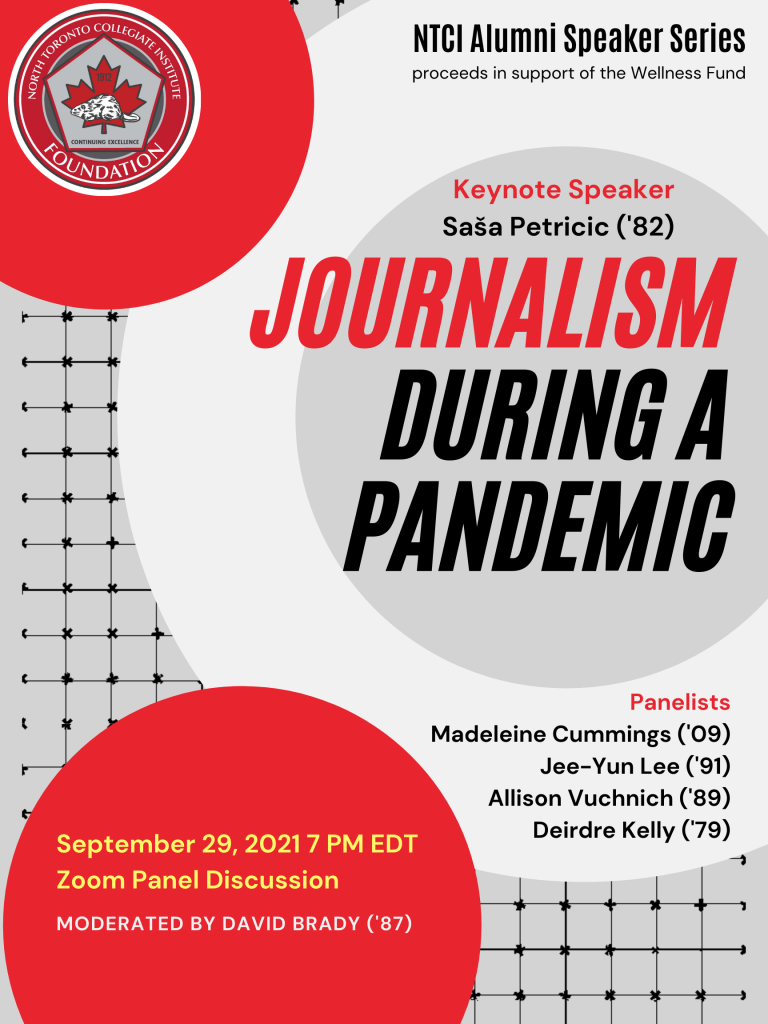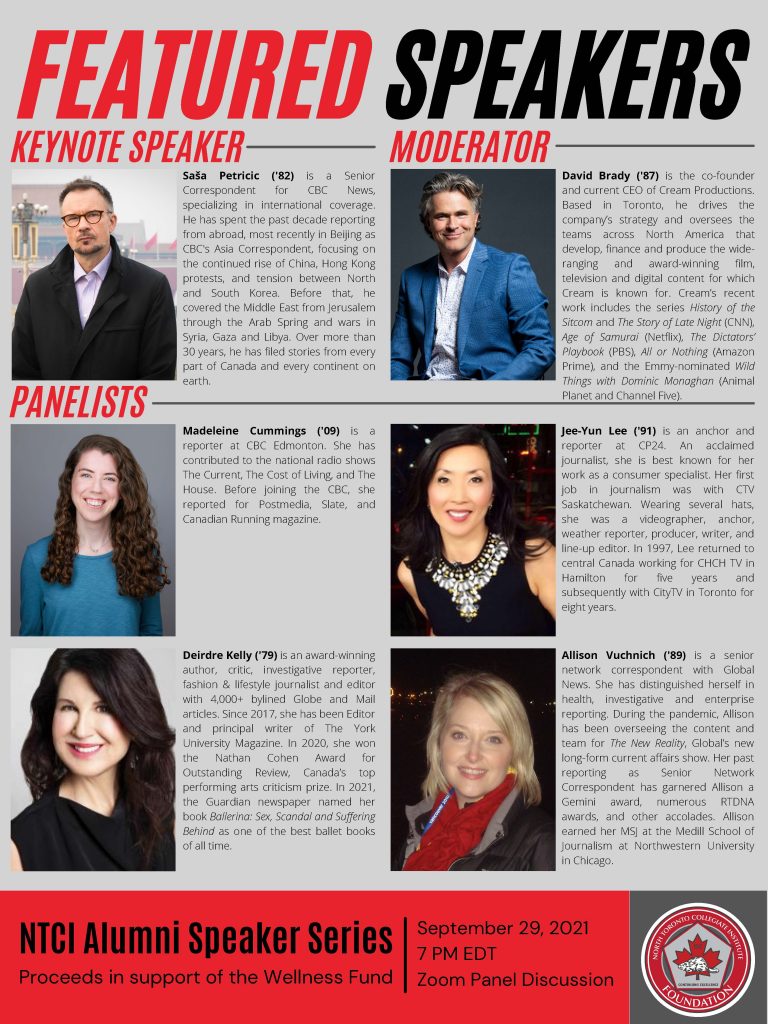 (Visited 297 times, 1 visits today)