On September 29, North Toronto alumni were treated to the inaugural NTCI Alumni Speakers Series event in support of the newly-established NTCI Wellness Fund.
The event, "Journalism in a Pandemic", was moderated by David Brady ('87), CEO of Cream Productions, and addressed the issues faced by journalists over the last 18 months.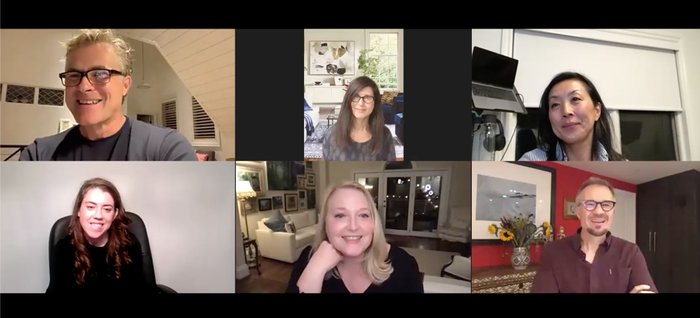 Keynote speaker Saša Petricic ('82), senior correspondent for CBC News, kicked off the evening with a fascinating account of his time in China at the beginning of the pandemic. Petricic has spent the past decade reporting from abroad, most recently in Beijing as CBC's Asia Correspondent, focusing on the continued rise of China, Hong Kong protests, and tension between North and South Korea. With eerie footage of the empty streets of Wuhan, he opened our eyes to the pandemic well before Toronto was even aware of Covid-19.
Throughout the evening, alumni panelists Madeleine Cummings ('09), Deirdre Kelly ('79), Jee-Yun Lee ('91), Allison Vuchnich ('89) shared their experiences as journalists who navigated the ever changing landscape of journalism throughout the pandemic. It was a fascinating evening that included an invigorating discussion on the role of journalism during times of crisis, and news in a post-truth era, as well as personal stories from these "essential workers". The virtual Zoom event, with almost 100 alumni in attendance, raised $2,840 for the NTCI Wellness Fund, which supports student mental health and wellness initiatives at the school.
Join us for our second Speaker Series event in May 2022, which will focus on the youth mental health crisis. Keynote speaker Nicole German, parent of former NT student Maddie Coulter, will discuss her work with The Maddie Project. She will be joined by Pete Bombaci ('85), founder of The GenWell Project, and social worker Kadeem Daley. Stay tuned for details on additional speakers and the exact event date.
Supporting student wellness
All ticket proceeds from this event went towards the Foundation's newly-established Wellness Fund.
Developed in response to Canada's ballooning youth mental health crisis in partnership with the NTCI Guidance Department, this fund will support student mental health and wellness initiatives at the school. These include:
individual counselling with a health professional or social worker
participation in programs developed by organizations providing mental health support to students
any other initiative which, at the discretion of the Guidance Department, is considered to be effective in assisting NTCI students with their mental health needs.
FUNDRAISING
Thank you for your support
Without you, the NTCI Foundation could not continue to celebrate and support North Toronto's students, teachers, staff, and broader community.
Recent key initiatives have included delivering face masks for each student, sponsoring grad gifts, and, of course, establishing a wellness fund to help promote student mental health.
Your donations also help us:
fund merit-based student scholarships and provide need-based bursaries
organize
support school clubs, mental health initiatives, and organizations through a Dragon's Den approach
promote alumni events like fundraisers, concerts, and school tours
facilitate communications with NTCI alumni through the Foundation's annual newsletter, email communications, and website
collect, preserve, restore, catalogue, and maintain the school's archival materials
organize large events such as the 100th anniversary in May 2012.
So on this National Philanthropy Day, we want to say thank you for your continued support of the Foundation. Your contributions continue to make a meaningful difference in the quality of life for our NT students and staff. Hail! North Toronto — here's to the red and grey. And to you.
(Visited 135 times, 1 visits today)