When educator Nancy Steinhauer ('88) reconnected with a fellow NT alumna, editor Martha Kanya-Forstner ('87), who knew that the result would be an exciting new book? Pushing the Limits: How Schools Can Prepare Our Children Today for the Challenges of Topmorrow was co-authored by Nancy and lawyer and educational researcher Kelly Gallagher-Mackay (who attended NT before completing high school at Earl Haig) and edited by Martha Kanya-Forstner. The book draws on Nancy's years with the Toronto District School Board as a teacher and principal and Kelly's work as research director for People for Education to provide "a vision of what schooling can and should look like in our rapidly shifting world." Highly readable, and of particular interest to parents and educators, the book highlights success stories of diverse and sometimes marginalized students and their innovative teachers in classrooms and schools where the future is now.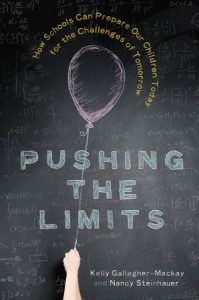 Nancy is currently principal of the Mabin School, one of Canada's first Ashoka Changemaker Schools; Kelly is an assistant professor of law and society at Wilfred Laurier University. In 2016, Martha took on the role of editor-in-chief of McClelland & Stewart and Doubleday Canada and vice-president of Penguin Random House Canada.
The book and its authors have been featured:
Pushing the Limits is available in bookstores and through Penguin Random House (http://www.penguinrandomhouse.com/books/258497/pushing-the-limits-by-kelly-gallagher-mackay-and-nancy-steinhauer/9780385685382/).
(Visited 363 times, 1 visits today)