After 18 months of the pandemic, which offered very little in the way of normal life for high school students, North Toronto is finally starting to see the light at the end of the tunnel. With a return to some extra-curricular activities, clubs and sports, the school is certainly buzzing, albeit more quietly than usual, and NT students are getting back to the things they love.
In athletics, the girls field hockey team was back in action, with practices almost daily and a near perfect record in their games. Intramurals featured prominently as well, allowing students to play competitively amongst classmates in soccer and ultimate frisbee. The winter intramural season is starting up, with volleyball and badminton beginning in early December.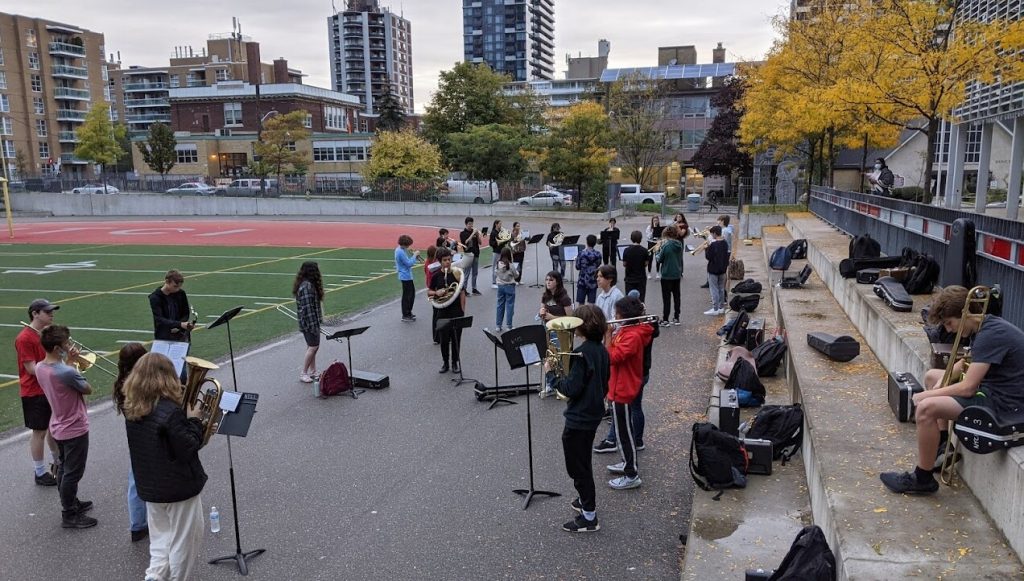 The music scene has made a return, with band, choir, and strings all having in-person rehearsals. The music students will have their first live performance in January. The marching band, a North Toronto institution, performed in the Niagara Falls Santa Claus Parade in November.
Numerous clubs and organizations have also returned to in-person meetings. The music council is up and running, as is the school's award-winning newspaper, Graffiti. Others, like the Law and Humanity Club, as well as the advertising club, and the Reb'elles continue with online meetings, but hope to be in person soon. And Charity Week organizers met recently to plan the highly anticipated, annual tradition.
We need your help more than ever! This Giving Tuesday, show your support for the Red and Grey, and help students as they resume their in-person activities. Donate online and tax receipt will be issued for the full amount of your donation.
Your donation will help us:
support school clubs, mental health initiatives, and organizations through a Dragon's Den approach
promote alumni events like fundraisers, concerts, and school tours
facilitate communications with NTCI alumni through the Foundation's annual newsletter, email communications, and website
collect, preserve, restore, catalogue, and maintain the school's archival materials
organize large events such as the 100th anniversary in May 2012.
When you donate through the Canada Helps secure site, you will receive a Canadian Revenue Agency approved tax receipt within minutes by e-mail. Also, consider joining the Norse Club, a monthly giving program for alumni. The Norse Club is a way for alumni to make a monthly monetary gift that will help the Foundation meet its mandate of supporting NT's students.
(Visited 138 times, 1 visits today)