In January 2017, all media outlets were buzzing with the inspirational story of double lung transplant recipient Melissa Benoit. The surgical team behind this remarkable achievement was led by NT alumnus Dr. Shaf Keshavjee.
R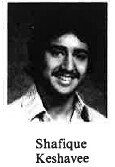 ecognized as a world leader in thoracic surgery, Dr. Keshavjee graduated from University of Toronto's Faculty of Medicine in 1985, then trained in surgery at U of T, Harvard, and the University of London. A key member of the Division of Thoracic Surgery at University Health Network, Dr. Keshavjee is also an Officer of the Order of Canada (2014) and the developer of the Toronto XVIVO Lung Perfusion System, which allows donor lungs to be kept alive outside of the body in order to be assessed, treated and repaired before being transplanted into a patient.
Congratulations to Dr. Keshavjee and his team on their lifesaving innovations and remarkable achievements.
(Visited 464 times, 1 visits today)