Purchase a limited-edition NT mask for $20 at https://soft-masks.ca/ntci and $7 from every purchased mask will be donated to the Foundation. In addition, 20% of sales from all other masks purchased from Soft-Masks by NT alumni or friends of NT between November 16 and December 16 will be donated to the Foundation.
Be sure to write NTCI in the Special instructions for seller when checking out, so funds can be directed to the NTCI Foundation.
Soft-Masks is owned and operated NT alumnus and Advisory Board member Lisa Cain ('82) and her business partner Sue Fisher ('84). Featuring high quality adjustable elastics, the masks are made from 100% cotton fabric, and hand sewn here in Canada.
With most of NT's extracurricular activities on hold and other Foundation sponsored events cancelled for 2020-2021, the Foundation gave each student and 2020 grad a limited edition red and grey masks silk-screened with the NT logo. The masks were (will be) distributed to all students in November at the quadmester change, and to the 2020 graduating class after their virtual Commencement.
When you buy a mask, you're not only showing a little school pride, you're also helping us support our students during this critical time!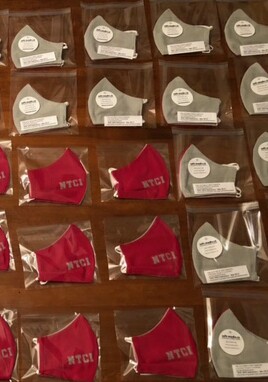 (Visited 157 times, 1 visits today)