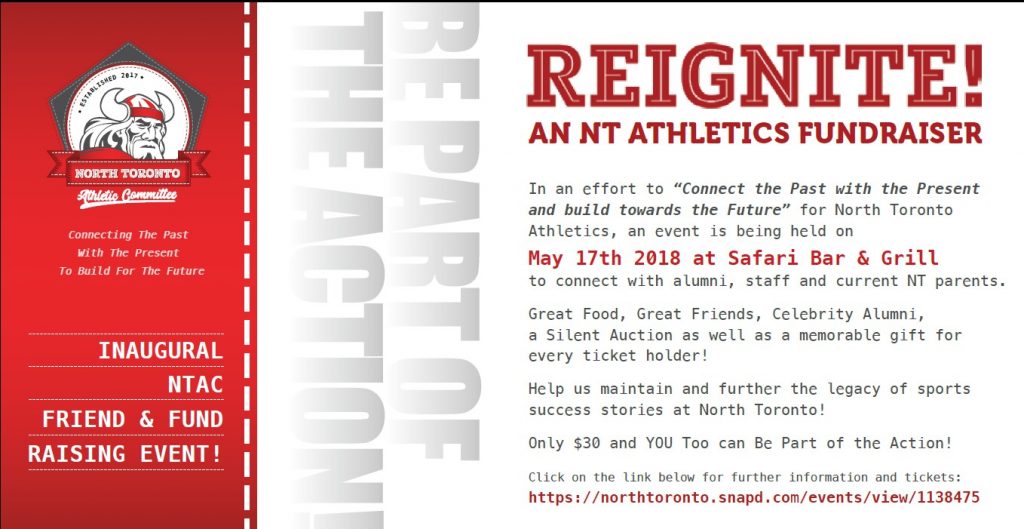 May 17, 2018
7:00 pm to 11:45 pm
Safari Bar & Grille (1749 Avenue Rd, Toronto)
Greetings Fellow NT Athletic Alumni!
A group of dedicated NT Alumni from the 70's, 80's & 90's have been working with current and retired NT Staff to create this exciting New Parents Athletic Council. Why let the Music Department have all the fun.
We are extremely excited to announce the formation of the NEW "North Toronto Collegiate Athletic Parents Council".
NTCI has an incredibly rich Sports History thanks in no small part to your contributions.
To Celebrate the Inaugural Friend-Raising Event we have invited Dr. Ron Taylor – affectionately referred to as "Dr. Baseball" to join us along with several other Notable NT Athletes as well as significant members of the Retired Coaching Staff will be in attendance.
Please grab a few old NT Friends and plan to attend this exciting event.
For more information and tickets: https://northtoronto.snapd.com/events/view/1138475