Tickets will be on sale until Thursday March 1 for our NTCI Charity Raffle in support of Horizons for Youth, a shelter for at-risk and homeless youth aged 16-24 in Toronto. There are two categories of prizes: Food & Beverage (16 prize packages) or Retail, Wellness & Entertainment (22 prize packages). All prizes have been generously donated by local businesses.
Raffle tickets can be purchased via the School Cash Online website (cut & paste the link below): https://tdsb.schoolcashonline.com/Fee/Details/16513/153/False/True
Paper tickets are also being sold by class reps and charity committee members.
Prize photos can be viewed via Instagram: https://www.instagram.com/northtorontoraffle2018/
Parent Course Selection Info Night will take place on Wednesday, January 31 at 6:30 P.M.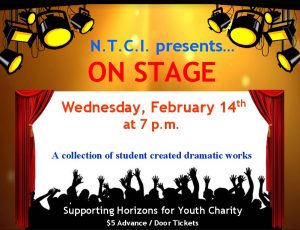 Tickets on sale on Thursday, February 8th in the foyer.