Full poster and contest rules: NTCI Creates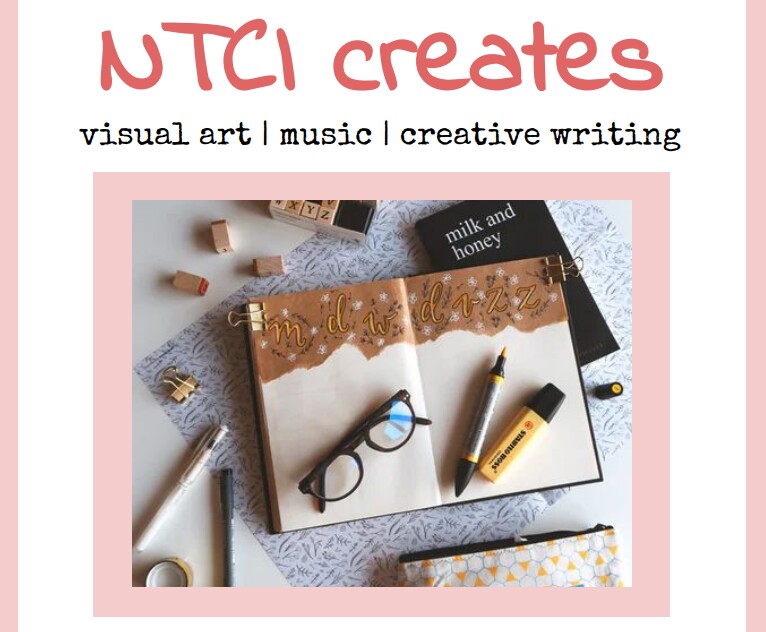 If you've been drawing, painting, writing, piano playing, or being creative in some other way, we'd love to see what you can do. All students are invited to submit audio, visual or written works at the google form in our bios for a chance to win gift card prizes and be featured in a special issue of Graffiti!
Submissions will be judged anonymously (names of creators will be removed) by eight NT students from various grades, selected for their involvement in art, music, and writing within the school. These judges will select five finalists from each of the three categories (art, music, and writing) whose work will be posted to digital Graffiti for school wide anonymous judging via google forms.
The winning pieces will be compiled in a special digital edition of Graffiti, and the identity of all finalists will be revealed! Winners will also receive gift cards to some of our favourite stores around NT!
The deadline for submission is Wednesday June 10th at 4:00pm.
Finalists will be announced Friday June 12th.
Student voting will take place from Saturday June 13th at 9:00am to Sunday June 14th at 11:59pm.
Winners will be announced Monday, June 15th.
Rules:
All students may submit two pieces of original work to each category (Art, Music, Writing).
Works must be the creation of individuals. Collaborations are not accepted at this time.
Submissions should be sent to ntcigraffiti@gmail.com no later than June 10th at 4pm.
Two students from each grade will make up the judging panel for finalists. All names and identifiers will be removed from submissions before judging to reduce bias. (Visual artists please keep this in mind when choosing if/where to place your signature, as it will be cropped out for judging.)
Formatting Guidelines:
Art Submissions must be attached as a PDF, .jpeg., or .jpg, and can be any form of static visual media (no videos).
Musical submissions should be submitted as a Youtube link, google drive link, or mp3 file. The maximum time is five minutes.
Written submissions must be no more than 1500 words, size 12 double-spaced in an easy to read font (Times New Roman, Arial, etc. are acceptable). Poetry, song lyrics, short stories, and creative nonfiction are all acceptable formats. All works should be submitted as a PDF.
All submission titles should be formatted:Full Name_Title_Category_NTCI Creates
To the NTCI Community:
As the Covid-19 situation continues to unfold, members of the North Toronto community and I feel it is necessary that we do our part while healthcare professionals across the country continue to risk their lives for our safety.
A few of my friends from Dartmouth have created a campaign in the USA called Fuel Our Heroes to raise money for healthcare professionals on the frontline. This campaign has raised over $200,000 and that total is growing by the day. I, along with the help of fellow members of the NTCI Class of 2018, have decided to bring the campaign to Toronto.
The Fuel Our Heroes Toronto campaign has partnered with Sunnybrook Hospital, to gather donations for their COVID-19 Research Response Fund. This fund will use the money we raise to buy protective equipment, groceries, and gas cards for the hard-working staff who are desperately in need of our assistance.
We launched the campaign last week and have raised $3,500. With your help we hope that we can get closer to our goal of raising $10,000.
Please visit our website, Fuel Our Heroes Toronto , where you can find more information about our campaign as well as a page where you can donate, or you can follow this link directly to the donation page: Donate Now.
We ask if you could please SHARE this email with the NTCI community in a newsletter or email platform; this is our opportunity to make a difference.
Your donations are essential to Fuel the Heroes of Toronto.
*We are partnered with Sunnybrook Foundation, a registered charity, and donations over $10 will receive an automatic tax receipt. Charitable Registration No. 899209118R0001*
Thank you for your consideration.
Sincerely,
Basile Montagnese
Marco Pannozzo
Matthew Grant
Gadi Rydlewicz
Blake Watson
Olivia O'Brien de la Torre
#TeamToronto #FuelOurHeroesToronto
NT STUDENT COUNCIL ELECTION DATES:
NT Election 2020 Google Classroom "opens" -Monday, April 27
Online Candidate Info Google Meet About Nomination Process-  Monday, May 4, 9 am
Period for Collecting Nomination Signatures: May 4 -May 7 @ 3 pm
Publish Candidate List – May 8, 9am
2nd Candidate Info Google Meet with Campaign Rules (mandatory)- May 8
Election Campaign Starts – May 11
Election speeches posted to Youtube – May 13
Election Campaign Ends – all social media campaigns shut down- May 19
Student Council Voting on ParentInterview – May 20, 21 & 22 (close 3pm on 22)
The candidate positions are:
Junior VIce President – grade 9s only can run
Secretary -grade 10s & up can run
Treasurer – grade 10s & up can run
Environmental Minister-grade 10s & up can run
Only grades 11s & up can run for the rest:
NTAA President (Male)
NTAA President (Female)
Social Convenor
Music Council President
Art Council President
Senior VIce President
President