Effective September 3, 2019, student Home Drives (H: Drive) will be replaced with Google Drive File Stream (G: Drive). This will allow students to use their current TDSB Google Drive for all their storage needs. Existing data in the student H: drives will be accessible, but read-only until March Break, 2020 so that students can access and/or move any needed files. New files can only be saved to the G: drive.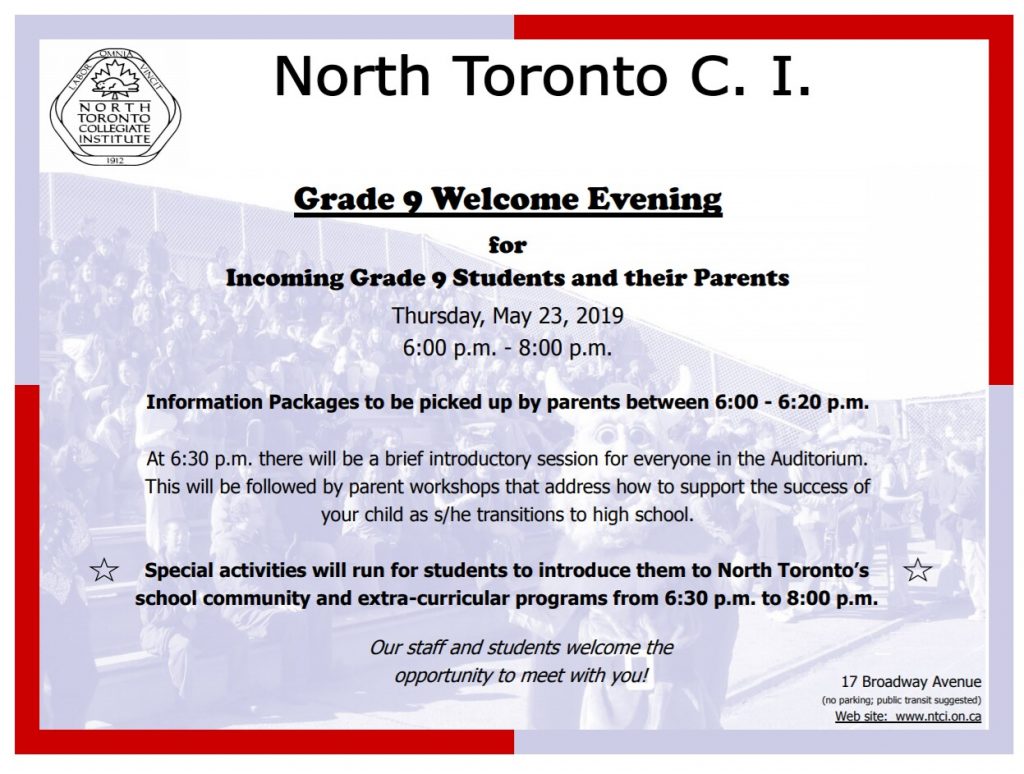 Grade 9 Welcome Evening
for
Incoming Grade 9 Students and their Parents
Thursday, May 23, 2019
6:00 p.m. – 8:00 p.m.
Information Packages to be picked up by parents between 6:00 – 6:20 p.m.
At 6:30 p.m. there will be a brief introductory session for everyone in the Auditorium.
This will be followed by parent workshops that address how to support the success of
your child as s/he transitions to high school.
Special activities will run for students to introduce them to North Toronto's
school community and extra-curricular programs from 6:30 p.m. to 8:00 p.m.
Our staff and students welcome the
opportunity to meet with you!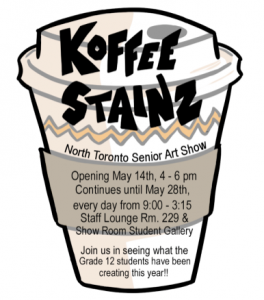 The senior art students of NTCI are proud to announce 'Coffee Stains', the annual art exhibition of 2019. These students have been hard at work all year to give you a collection of fine pieces. 'Coffee Stains' is about the stories form the perspective of teenagers: leaving high school, stressed with schoolwork and university application, and of course running on absurd amounts of caffeine. Our art is all extremely personal and expresses each of our unique experiences. The work ranges from many different media, themes, and presentation. These young artists are so thankful and excited for this amazing opportunity. They will not disappoint.
Opening reception, Tuesday, May 14th from 4p.m-6p.m
Staff Lounge Rm 229 + Showroom Student Gallery 2nd floor,
North Toronto Collegiate Institute
17 Broadway Ave, Toronto, ON
Exhibition continues until Tuesday, May 21st 9am-3:15p.m