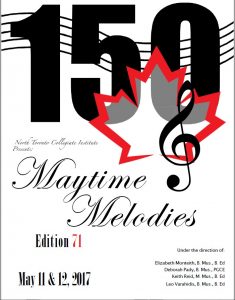 It is with great pleasure that we present our 71st
Maytime
Melodies
on
May
11th and 12th at 7:30 p.m. Our theme this year is Canada 150, and our Friday concert will feature a number of Canadian compositions. Tickets will be going on sale on May 1st at the NTCI box office.
Tickets are $10 and all seating is reserved.
2016 music graduates, please contact the music department for your complimentary tickets by May 5th.

Thursday, May 10, 2017

Friday, May 11, 2017 – Celebrating Canada 150